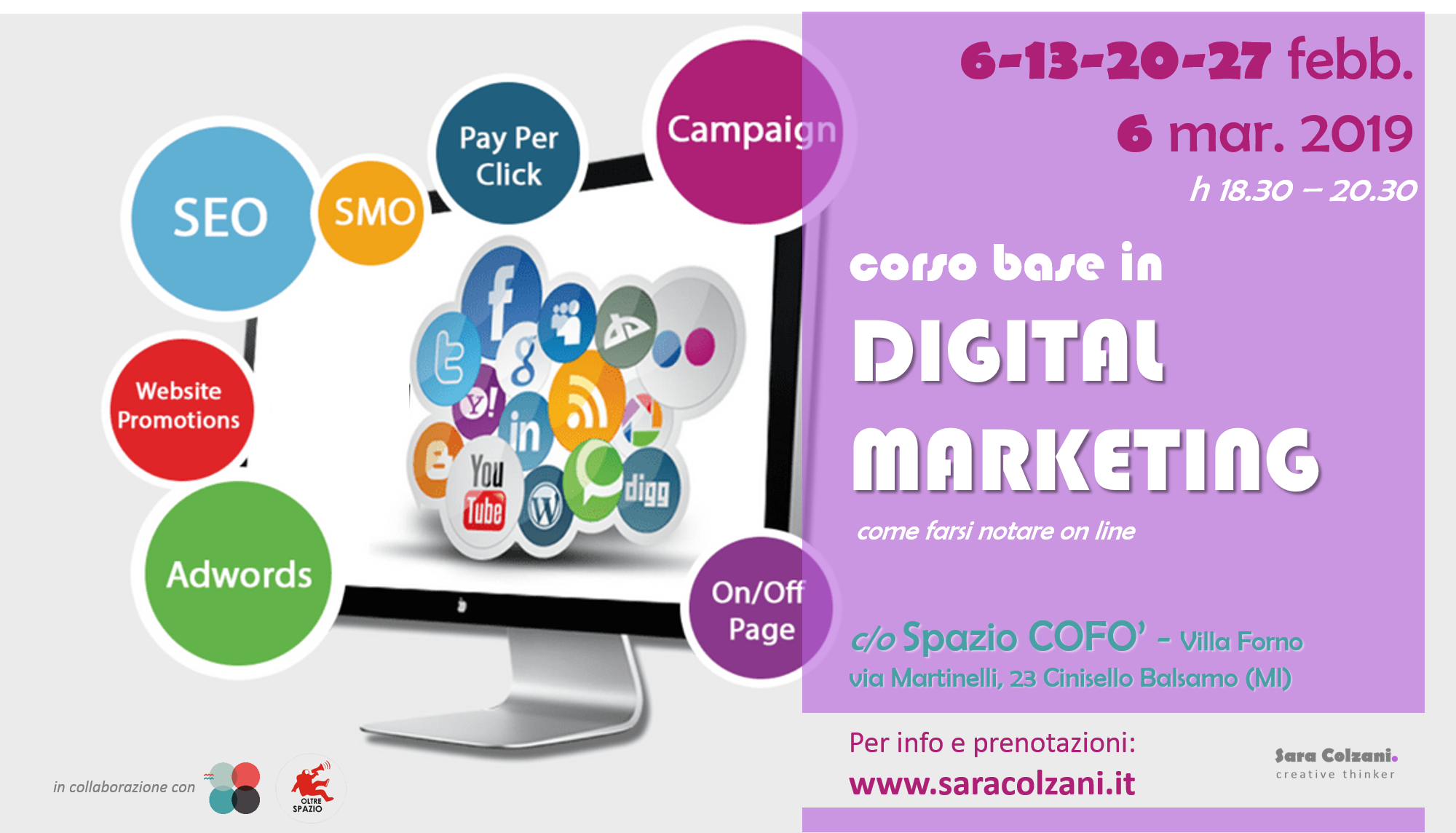 Corso base Digital Marketing 2019
business, canali online, Cinisello Balsamo, competitor, content marketing, corso, digital marketing, digital strategy, Google Ads, Social Ads, social media, Spazio COFO', strategia digital, target, The Lab, Wordpress
12 Dicembre 2018
Il Digital Marketing è un elemento essenziale per incrementare la tua attività, utilizzando i diversi strumenti on line che abbiamo a disposizione. Sito web, social media, campagne ads sono mezzi potenti per trovare nuovi clienti, farti conoscere e promuovere i tuoi servizi.
Creare una strategia digitale significa attivare in modo sinergico i diversi canali online, attuando tecniche di content marketing, social media management e sfruttando la potenzialità data dalle campagne pubblicitarie realizzate con Google Ads o Social Ads.
Focalizzandosi sugli obiettivi e sul target che si vuole raggiungere, analizzando i competitor di riferimento e creando un piano sostenibile in termini di risorse economiche e di tempo, potrai avere grandi vantaggi dall'utilizzo del web per incrementare il tuo business.
Novità 2019 l'aggiunta dell'ultimo appuntamento  – The Lab – dove sei tu il protagonista e il tuo business, avrai a disposizione un focus group per consigli, trucchi e strategie per implementare nel migliore dei modi la tua digital strategy!
5 appuntamenti di 2 ore ciascuno per capire le leve del marketing di base, dai social network alla creazione di un sito web per gestirli al meglio per la tua attività in proprio o per stare al passo con i colleghi!
un ristretto gruppo di partecipanti permette massima interazione, confronto e dialogo per avere le risposte alle tue personali domande e non "subire" una lezione standard
tenendo un filo conduttore base, il corso sarà modulato effettivamente sulle esigenze dei partecipanti, sul loro livello di conoscenza del mondo web e sui reali obiettivi
poche lezioni con minor impegno di tempo per avere le basi su cui partire, poi avremo tutto il tempo per approfondire ogni singolo caso
conoscerai altre persone con cui potrai confrontarti, migliorare e perché no creare business insieme!
potrai capire meglio quali sono i principi del digital marketing e orientarti meglio nel panorama web secondo le tue esigenze e i tuoi obiettivi.
Ogni appuntamento è pensato come un modulo :
a.Pianificare una strategia digitale: solo social? solo sito internet?
b.Quali o quale social media implementare secondo gli obiettivi prefissati
c.WordPress di base: blog o sito? come partire
d.Gestire e coordinare i tools a disposizione per ottimizzare tempo e denaro – le campagne Ads
e. the Lab: pianifichiamo insieme la strategia digitale per il tuo business
Location: Spazio COFO' – Villa Breme Forno
via Martinelli, 23 Cinisello Balsamo (MI)
raggiungibile con tram 31/M5 e con ampio parcheggio
tot corso: 2h per 5 incontri, 10 ore min 5 partecipanti
date: 6 – 13 – 20 – 27 febbraio e 6 marzo 2019
orari: h 18.30 – h 20.30
quota di partecipazione € 120,00 che comprende:
– partecipazione a tutti gli appuntamenti
– ricezione slide corso via mail
– attestato di partecipazione
– consulenza di 1h gratuita con la docente
Il corso è tenuto da Sara Colzani, Digital Strategist, SEO Specialist e Event Planner.
Per info, approfondimenti o per conoscermi contattami: 392.2578356 – sara@saracolzani.it o visita la mia pagina Facebook
Iscriviti subito, i posti sono limitati e le iscrizioni terminano 3 giorni prima dell'inizio corso: