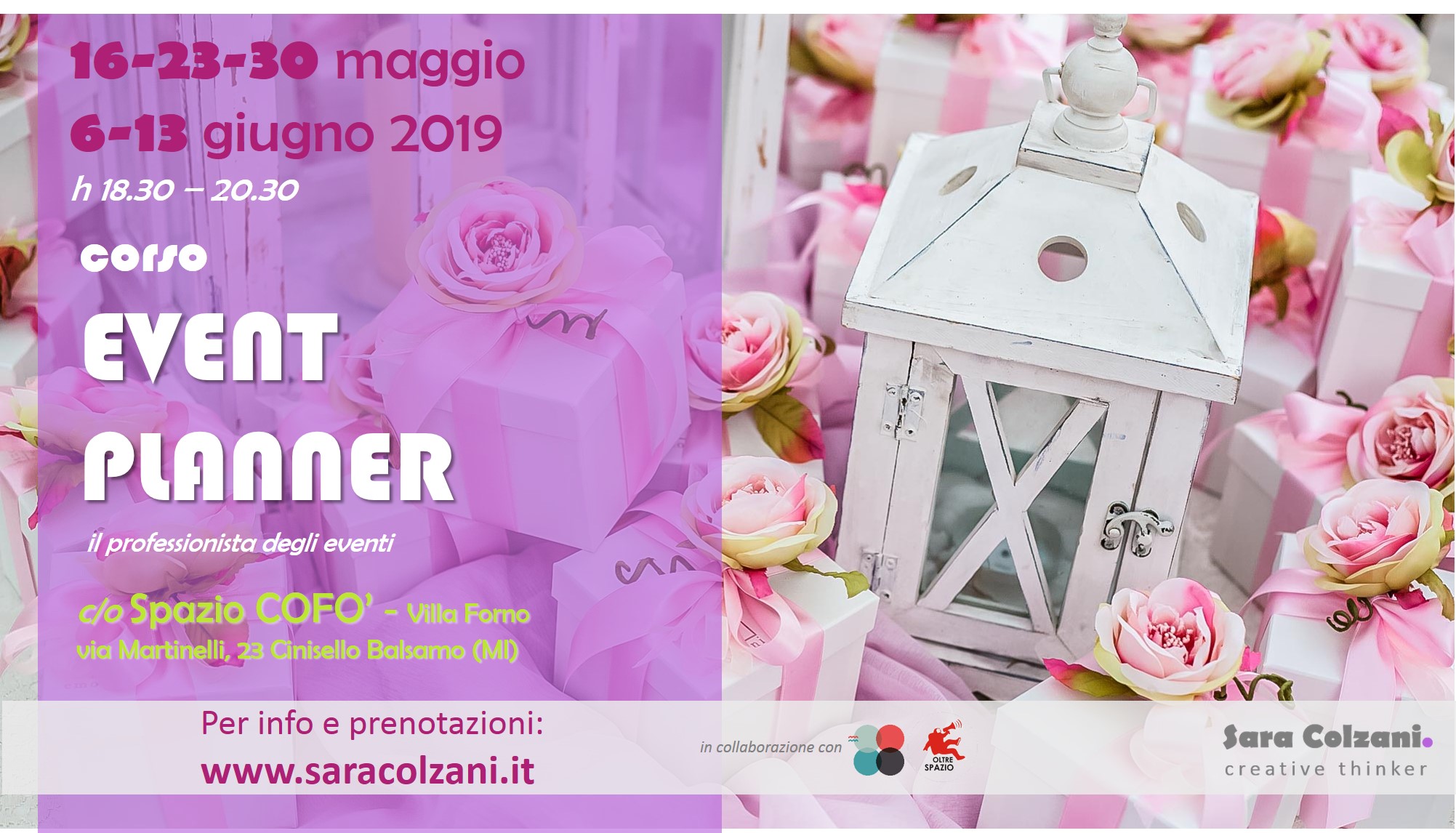 16/5: Corso EVENT PLANNER
allestimento, aziende, Cinisello Balsamo, cliente, contatto, convention, corso, digital strategy, Event Planner, feste, fiori, incentive, location, matrimoni, meeting, MICE, Milano, preventivo, team building, tema, Wedding Planner
21 Marzo 2019
Vuoi entrare nel favoloso mondo dell'organizzazione eventi? ti piace progettare l'evento in tutte le sue forme, dalla scelta del tema, ai fiori all'allestimento?
Ti piacerebbe farlo ogni giorno, magari trasformando questa attività in una vera e propria professione? Vuoi diventare un/una Wedding Planner?
Dal 16 maggio 2019 inizia il corso per diventare Event Planner a Cinisello Balsamo – Milano.
Come accade per molti lavori, non sono soltanto le qualità individuali, le doti e il talento innato a essere determinanti per diventare dei bravi professionisti. Bisogna studiare per passare dalla fase "lo faccio per hobby" alla fase "lo faccio per lavoro".
Ecco perché questo corso fa per te! Frequentare questo corso ti permetterà di confrontarti con chi nel campo dell'organizzazione eventi e party ci lavora da più di 15 anni e ha potuto avere esperienze sia con grandi aziende, organizzando meeting, convention, incentive e team building (MICE), wedding ma anche per eventi locali sfruttando le abilità del territorio.
Inoltre, frequentare un corso può anche essere una grande opportunità di confronto con altre persone, ciascuna col proprio bagaglio di idee e fantasia. E chissà che non possano nascere amicizie e collaborazioni vincenti!:-)
Il corso fornisce ai partecipanti tutti gli strumenti necessari a diventare un organizzatore o una organizzatrice di eventi, dai matrimoni alle feste a sorpresa, alle convention aziendali.
Il corso è focalizzato sullo sviluppo delle capacità di ascolto. L' Event Planner, che sia un organizzatore di feste per bambini o un meeting ECM , si trova ogni volta a confrontarsi con persone diverse, ciascuna con una personalità e un gusto differente. E quasi nessuno ha davvero le idee chiare sul tipo di festa che vuole organizzare…
Creare l'evento perfetto per la persona che hai di fronte, quindi, è la vera sfida.
Nel corso scopriremo come capire le esigenze dei tuoi clienti. Imparerai ad entrare nella loro mente ed uscire con le idee chiare su come organizzare un evento che apprezzeranno di sicuro!
Imparerai l'organizzazione di eventi privati e pubblici e come panificare eventi per bambini a prova di genitori esigenti. Inoltre,avrai ben chiaro come si gestisce il rapporto con i clienti, come si prepara un preventivo per evento, come scegliere le giuste location, come selezionare i fornitori e il team con cui lavorare….e soprattutto come avviare la tua attività da professionista.
Novità 2019 l'aggiunta dell'ultimo appuntamento  – The Lab – dove sei tu il protagonista e il tuo business, avrai a disposizione un focus group per consigli, trucchi e strategie per implementare nel migliore dei modi la tua business strategy!
5 appuntamenti di 2 ore per capire come ottimizzare tempo, lavoro, creatività:
un ristretto gruppo di partecipanti permette massima interazione, confronto e dialogo per avere le risposte alle tue personali domande e non "subire" una lezione standard
tenendo un filo conduttore base, il corso sarà modulato effettivamente sulle esigenze dei partecipanti, sul loro livello di conoscenza del mondo event planning
poche lezioni con minor impegno di tempo per avere le basi su cui partire, poi avremo tutto il tempo per approfondire ogni singolo caso
conoscerai altre persone con cui potrai confrontarti, migliorare e perché no creare business insieme!
potrai capire meglio quali sono gli strumenti fondamentali dell' Event Planner e avere le basi per far partire la tua attività imprenditoriale.
Ogni appuntamento è pensato come un modulo:
Pianificare, creare, ideare: l'

event planner

Preparare un

preventivo e il contatto

con il cliente
Scegliere il

team e i fornitori

giusti, avvio alla professione
La

digital strategy

per rendere visibile il tuo business
Dal briefing al progetto :

The Lab
Location:
Spazio COFO' – Villa Breme Forno via Martinelli, 23 Cinisello Balsamo (MI)
raggiungibile con tram 31/M5 e con ampio parcheggio
tot corso: 2h per 5 incontri, 10 ore
min. 5 – max 12 partecipanti
date:
giovedì 16 maggio h 18.30 – h 20.30
giovedì 23 maggio h 18.30 – h 20.30
giovedì 30 maggio h 18.30 – h 20.30
giovedì 6 giugno h 18.30 – h 20.30
giovedì 13 giugno h 18.30 – h 20.30

quota di partecipazione € 125,00 che comprende:
– partecipazione a tutti gli appuntamenti
– ricezione slide corso via mail
– strumenti e risorse per l'attività
– attestato di partecipazione
Early booking per  iscrizioni entro il  26/04 : € 110,00!!
Porta un amico! Sconto del 10% per entrambi  🙂
Docente:
Sara Colzani, Event Planner & Digital Marketer
Lavora nel campo della comunicazione da più di 15 anni, sia in grandi aziende che in agenzia di comunicazione: ha organizzato eventi sia per grandi aziende come Mondadori, Vodafone, Leroy Merlin sia in agenzie dove ha potuto conoscere questo meraviglioso mondo.
Per info via mail a sara@saracolzani.it o whatsapp 392.2578356 visita la mia pagina Facebook
Per iscrizioni, compila il form in tutte le sue parti. Affrettati, i posti sono limitati!